New PC Threat: Ransom-ware

Wed, 23 Oct 2013 19:29:00 GMT
We have had the unfortunate experience of coming face-to-face with the latest tool of miscreants who inflict pain on innocent PC users: Ransome-ware. This variant of virus/malware arrives as an attachment and when installed on your PC encrypts all your important files - then - holds them hostage until you pay for the decryption key. This extortion scheme has been covered in the news before here and here.
There may not be any recovery method short of loading files from a backup and/or reinstalling the Windows Operating System. If you are concerned about PC security call us for help before this bug bites you!
BEWARE: NEVER OPEN ATTACHMENTS FROM ANYONE UNLESS YOU HAVE MADE PRIOR ARRANGEMENTS TO RECEIVE THEM AND YOU ARE CERTAIN THAT THE SENDER HAS ANTI-VIRUS PROTECTION.
We still recommend a three layer approach to PC Protection: 1) Updated Anti-Virus software and 2) Updated Anti-Malware software and 3) Updated Operating System, Browser and other software.
Backhoe: Weapon of Mass (IT) Destruction!

Wed, 26 Jun 2013 16:08:00 GMT
We are in the business of protecting our clients' data, creating disaster recovery plans and business continuity planning when things go wrong. But this morning we came into the office and found this mangle door to the telephone closet for our building.
Not a good way to start the day!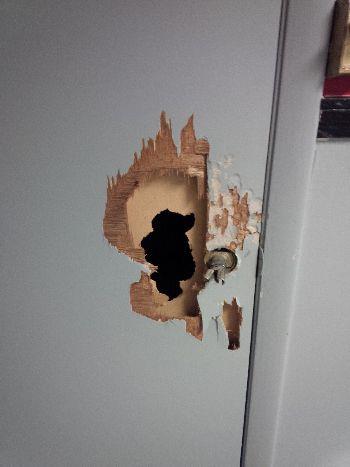 We noticed our phones and Internet were down - not a crisis yet, but then we learned from customers in the building that the whole building was down - the beginning of a crisis for sure.

But then we looked down the alley and found a backhoe with AT&T trucks and lots of guys in yellow and orange day-glow vests standing around.
And then we heard from other customers on our block who were also down. We had all the evidence we needed that this was going to be a VBD: Very Bad Day.
We learned from the crews on the job that 2000+ pairs of phone wires has been cut by the backhoe and service would not be returned until tomorrow at the earliest.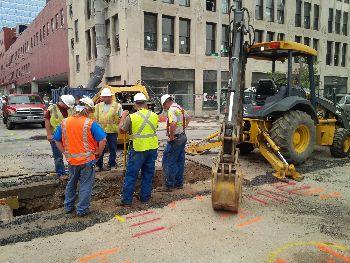 So take note: Computer Experts is 'Off The Grid' until at least Thursday - and possibly Friday.
Fortunately, we all have mobile devices with email and Internet access and we have lots of work to do on-site at customers. Our email and backups are in the cloud and accessible remotely. We also have a great Telecom vendor: Connect 5, who quickly redirected our phones to Ray's Cell Phone - not the best solution - but one that will at least keep us in touch with customers.
So, for the next couple days, don't be surprised if we are a bit slow to reply. We'll be getting back on-line just as soon as we can, but this event proves that even 'Computer Experts' like us are not immune from the type of disaster we advise our customers to prepare for!

The reason, if you want one, WHY Microsoft invented Windows 8

Sat, 09 Mar 2013 16:36:00 GMT
We are just like you - we struggle to keep up with technology. And, if I may say so, we work harder at it because we aren't usually just poking around in something new for fun. We are THROWN INTO THE MAELSTOM OF CHANGE after something has actually broken that formerly worked. Usually this is a customer that STUMBLED INNOCENTLY INTO change unexpectedly and without fear because a vendor recommended an upgrade.
ABANDON ALL HOPE, YE WHO ENTER HERE!
The next generation of Windows 8 and Microsoft Office may be marketing successes someday, but as for now I recommend that you do whatever you can to stick with Windows 7 and Office 2010. Just Google terms like 'Make Office 2013 look like 2010' or 'Windows 8 complaints'.
The threat these new Microsoft products presented became clearer when a customer unwittingly upgraded his working Windows 7 laptop to Windows 8 which broke several of his key applications and when I innocently upgraded a customer to Office 2013 and was AGHAST when the new Office COMPLETELY CHANGED THE WAY THE SCREEN LOOKS AND FILES ARE LOCATED. Argghhh!!
Many of our customers have asked us: WHY WOULD MICROSOFT DO THIS??? Well, we asked the same thing. So I searched for the answer. Here is a video of THE GUY THAT INVENTED WINDOWS 8 explaining WHAT HE WAS THINKING.
UX Week 2012 | Jensen Harris | The Story of Windows 8 from Adaptive Path on Vimeo.
Note: you may notice a sound byte that I noticed: he describes his imminent move to a new house and his PLANS TO THROW AWAY ALL HIS BOOKS. ANYONE that would do that shouldn't be in charge of anything important. I hope he finds a new career soon.



Outlook Intervention!

Tue, 19 Feb 2013 19:56:00 GMT
Everybody loves to hate e-mail. And with many it has become an addiction. I've written lots of articles about it. Like this one in The Indiana Lawyer. But no matter where I go, people seem to feel overwhelmed and out of control when it comes to managing E-Mail. That's why I created The E-Mail Trainwreck website.
Most customers we serve use Microsoft Outlook. It is probably the most popular E-Mail program on the planet - and Exchange is a top contender for best E-Mail server. Together they make a powerful productivity tool. But most people don't know how to use them well. In fact, I've concluded that most people use Outlook the way I play golf - BADLY!

So, in cooperation with Meals on Wheels of Central Indiana, we are offering a FREE OUTLOOK TRAINING SEMINAR. This is a fund raiser for MoW too! We'll donate $5 for everyone who attends. They have lots of free parking and a wonderful new meeting space.
Monday - March 4, 2013 - 708 E Michigan Street, Indianapolis, IN (Former Indianapolis Senior Center building.)
Noon - 1:30pm. Bring your own lunch. Drinks will be provided.
Seating is limited to the first 100 people - so please reserve a spot. Simply call 317-833-3000 or send a note to info@ComputerExpertsIndy.com.
Feel free to invite your friends & colleagues. We want to save the world from out-of-control inboxes, unfilled attachments, corrupt PSTs and Folders-Gone-Wild!


20 iPads Streaming Video on one ClusterMesh Node!

Thu, 07 Feb 2013 21:44:00 GMT
St. Richard's Episcopal School asked us to provide a next-generation WiFi solution for their K-8 campus. This is a video of 20 iPads streaming video through a single ClusterMesh node. This solution is less expensive than any we've found and developed right here in Indianapolis!
Java Security Threat

Fri, 11 Jan 2013 15:16:00 GMT
A new security threat has been reported that affects the Java programming system on most PCs. This software is automatically loaded with your Internet browser: Microsoft Internet Explorer, Google Chrome and Firefox.
Un
til Oracle, the maker of Java, repairs their software the best course of action to protect yourself is to disable the Java program. Instructions for doing that may be found here.
If you are using the Malwarebytes Pro anti-malware program you are protected (so long as the program has been updated recently.) The Pro version updates itself automatically - the Free version must be updated manually.
As always, if you have any questions you are welcome to call us and we will help you.
Disaster!

Sun, 23 Dec 2012 03:50:00 GMT
Despite good planning, attention and the best technology, three of our customers experienced unplanned downtime this year when disaster struck. Fortunately, no data was lost. But rebuilding systems, recofiguring networks and the inconvenience of systems that aren't working for as much as five days is an experience that one prefers not to repeat.
Upgrading hardware, service maintenance contracts and vigilance remain the answer - and we end 2012 even more committed to preach the Simplify-Outsource-Protect Gospel! By the end of 2013 all of our customers will be fully engaged in a formal disaster preparedness plan - or formally opt-out! Good IT Service Partners don't let clients operate an IT system without a DR Plan and 24/7 monitoring!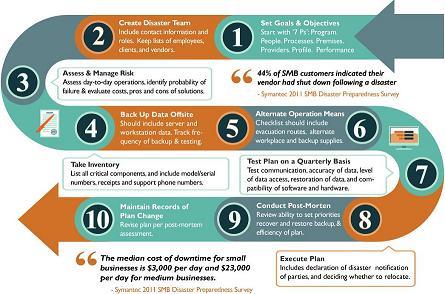 Download a Free Disaster Preparedness Planning Template here (Courtesty of XVand Technology)
Nielsen Disables Reply-To-All

Sun, 25 Nov 2012 07:47:00 GMT
Business Week reported that Nielsen, the ratings company, disabled the Reply-To-All function for all 35,000 of its global employees. The reason for this move? In the words of Chief Information Officer, Andrew Cawood, it was to eliminate "bureaucracy and inefficiency."
Just Google "Reply-To-All" and you'll read stories ranging from the hilarious to the horific. This one from the Wall Street Journal is typical.
If there is one button to avoid in your e-mail program it would be Reply-To-All!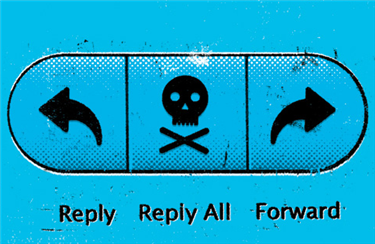 E-Mail Mahem

Mon, 19 Nov 2012 21:20:00 GMT
If you are under 40 you will be using e-mail professionally for at least 20 more years! Most people use e-mail badly, Here is a video that nets out some basic tips that can multiply your efficiency and shorten your time in front of Outlook.
The Tyranny of E-Mail

Sat, 27 Oct 2012 12:38:00 GMT
By some accounts, there are 4 Trillion E-Mails exchange every day around the planet. One author claims that 40% of the average knowledge worker's day is spent dealing with e-mail. Surprised? You shouldn't be. E-mail has been the subject of much psychologogical research and the results paint a rather dismal picture. E-mail is making you stupid! I've collected some of the best information I've found at a website dedicated to E-mail chaos. I call it The E-Mail Trainwreck.
Here is a video from a new book I'm reading by author John Freeman. His experience led to him writing: The Tyranny of E-Mail.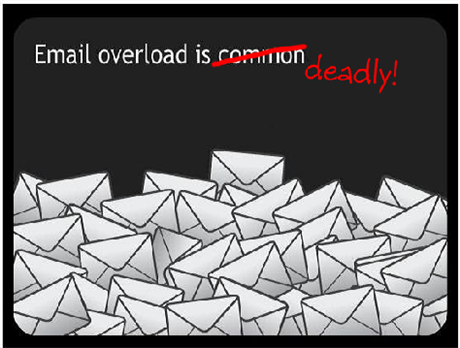 Caught in the Act!

Thu, 24 May 2012 21:59:00 GMT
My recent post about a social engineering scam - where someone pretending to be from Microsoft calls and offers help - has a sequel!
Here is a video posted to YouTube recorded by a security engineer who got such a call. He quickly turned the tables on the attacker and had some fun.
Remember: NOBODY FROM MICROSOFT will call you unless you paid them to call you!
New Threat Immune to AntiVirus Protection

Tue, 17 Apr 2012 17:44:00 GMT
We've received two reports of a 'Social Engineering Exploit' that attempts to gain control of a user's PC using a 'Fake Microsoft Tech Support' service call. Once in your PC, the attacker can do about anything he wants . . . including stealing your information and logins/passwords.
Anti-Virus and Anti-Malware protection is helpless with this kind of attack because you essentially lay out the welcome mat for someone who can easily bypass your defenses as they pretend to be you.
We published a Fax Alert on this subject. You can find out more information here
Computer Experts "Lights Up" Scottish Rite

Sun, 19 Feb 2012 19:55:00 GMT
We were recently asked by long-time customer Scottish Rite Cathedral to provide a wireless networking solution that would work in their national landmark building that has graced the Indianapolis skyline since 1929. No easy task! But together with development partners at MW.NET we delivered ClusterMesh - our wireless network solution that costs less and performs better than competitive solutions from Cisco, Meraki and other national vendors - INVENTED IN INDIANAPOLIS!
The project included installation of six 802.11n wireless access points with an integrated firewall and controller subsystem. This package allows Scottish Rite staff to administer users authorized to access the Internet from the Cathedral's many meeting spaces. The system isolates their internal network from public access and is compatible with Windows and Apple PCs, laptops and tablets in addition to Android and Blackberry based mobile devices.
Their first customer: The NFL, who hosted events at the Cathedral leading up to Super Bowl XLVI.
We believe that wireless access is a growth opportunity. We have lots of customers from law firms to non-profits that are utilitizing more mobile technology to make their staff more productive. They want to offer Internet access to guests and clients. This requires more powerful technology than consumer-grade wireless access points.
We have now served Irvington Community Charter Schools, St. Richard Episcopal School and Indy Tire with innovative wireless Internet solutions. How can we help "Light Up" your business?
Computer Experts Announces Unprecedented Server Trade-In Program

Sat, 05 Nov 2011 22:24:00 GMT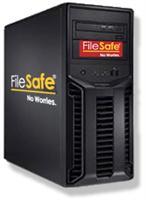 EVERYONE knows that the price of technology products depreciates once they are installed - like cars that leave the showroom floor. In fact, unless you can find a non-profit agency or community organization that does eCycling for free, it might actually cost you something to have monitors, battery backup units and large electrical products hauled away!
Computer Experts has just changed all that by announcing an unprecedented program to actually PAY you for retiring your old server!
With the purchase of our innovative/award wining FileSafe Server new customers will receive a $500 TRADE-IN value on their old server. That's right: even if your old server is a smouldering pile of digital detritus, it's worth $500 on the purchase of a new FileSafe server. That's HALF OFF! Car dealers would be proud!
FileSafe is the only server that includes backup (offsite and onsite,) unlimited users and a 100% NO WORRIES service guarantee. And the FileSafe service contract starts at just $199/mo . . . and you may cancel the service contract ANYTIME!
It's no wonder that FileSafe is used by LOCAL LEGENDS OF BUSINESS like Sullivan Hardware, Indy Tire, Dr. Aziz Pharmacy and Keep Indianapolis Beautiful.
Shouldn't YOUR business have a NO WORRIES server like FileSafe?
QR Codes automate mobile browsing

Sat, 10 Sep 2011 14:44:00 GMT
You've probably seen these interesting square images on the sides of buildings and packages but wondered what they were. They are QR codes; the QR stands for Quick Response. They were invented by a subsidiary of Toyota in 1994 to help automate industrial data collection.
Armed with a mobile phone with an app that scans and interprets their message, QR codes can link your mobile phone browser to web pages more efficiently than typing long URLs - and they can tell the web site how you got there. It's a great way to collect markting information and streamline consumer interraction.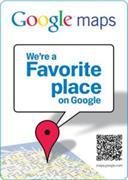 Locations can be tagged with QR codes and take you to web sites that give more information or allow you to check in. Some uses of QR codes are more social . . . like the one o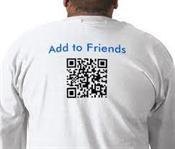 n this T shirt you scan that takes you to the wearer's Facebook page where you can become Friends.
I've used QR codes on a single page handout, together with URLs, to replace pages of material I know will only get lost or become obsolete.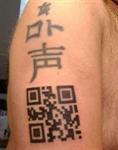 I've seen QR codes on business cards - that makes a lot of sense too . . . card scanning software can just interpret the text inside the code as data such as name, address, etc. It makes the collection of contact information more reliable. Highly dense QR codes can store hundreds of characters.
QR codes are evidence that mobile devices are quickly becoming the standard way we harvest information. They are free and fun to use. Just visit this link, type in whaterver you want, and then cut and past the resulting QR code image anywhere you like. It works in Word, Open Office and most other graphics programs.
E-Mail Divorce

Sat, 03 Sep 2011 14:22:00 GMT
Recently, several of our clients and friends have endured the pain of 'E-Mail Divorce.' They left their prior company and moved to a new one. One of the key issues in this transition was e-mail. It isn't pretty.
Your e-mail address is the principal means by which your friends, contacts and colleagues stay in touch. Unlike a twitter handle or Facebook/Linkedin presence, your professional e-mail address almost alway includes your company's domain name. What happens when you move? Where does the e-mail go?
Domain names have become 'property' are are fought over and negotiated about like children in a divorce. How, and if, your e-mail gets forwarded, the wording of the auto-responder and the status of the contents in your e-mail box are all subject to dispute.
In the case of one client, the status of e-mail was the subject of lengthy, expensive negotiation. In another, the acquiring company insisted on every employee converting to a new e-mail system - that didn't work! In another, messages sent to the former address were redirected to another employee for processing. How would you like someone else reading your e-mail? In an e-mail divorce, it is just one of the optons!
Our advice is to think long and hard about how the e-mail assets of your company are managed, protected and may be potentially divided in the event of a break up. The digital age may have brought change to much that we do, but it hasn't changed our desire to fight over valuable assets be they virtual or physical.
Free E-Mail Overload Audio CD

Sat, 06 Aug 2011 14:32:00 GMT
Many of you have seen the sign in my office (facing Michigan Street) that says: E-Mail is Making You Stupid. There is plenty of evidence that is true. Check out this New York Times article that describes how people struggle to avoid the 'E-mail Tsunami.' It cites the strategies of such notables as Mark Cuban and TechCruch founder/blogger Michael Arrington. Even Edison is reported to have suffered from 'mail' overload!
As a service to our business customers (and prospects) we are offering a free audio CD with advice and tips on how to 'Beat the Rabbit Habbit.' The author: Joe Robinson analogizes the way E-Mail seems to multiply (each email turns into six!) with the reproduction success of rabbits. His entertaining and informative audio CD provides hope that e-mail need not control your life!
Best tips on avoiding e-mail overload:
Deal with e-mail only once or twice a day.
Keep messages short. Wait a day if the subject is emotional - OR JUST CALL!
Include: NO REPLY NECESSARY in the subject line to avoid replies like: OK, Got it, or Good.
Keep your inbox empty: delete, move to a folder or delegate messages at once - don't 'think about it!'
Observer the Ping-Pong rule: if you exchange messages twice on the same subject: JUST CALL!
Here are seven more from the productivity website: Getting Things Done.
For your free copy of How to Beat The Rabbit Habbit just call our office: 317-833-3000. Note: This offer is reserved for our current customers or businesses that may become customers. Feel free to visit Joe's site to buy a copy otherwise...they are $15.95 plus shipping.
P.S. Joe Robinson's Work Life Balance website has many other resources and tips to live a more balanced life. Highly recommended!
Microsoft creams OS market

Sun, 26 Jun 2011 13:29:00 GMT
Creaming is what you do to extract the best part of raw milk. Creaming a market is intended to extract the most valuable part of a demand curve . . . the one that results from price elasticity.
A friend asked me about whether it was worth paying to upgrade his Windows 7 Home Premium to Pro. I told him that outside a corporate network (like one controlled by a FileSafe or Windows Server,) it probably didn't matter much - UNLESS - that PC was going to be accessed remotely. The Pro version of Microsoft's OS products include Terminal Services. A very handy feature for remote access. (But one you probably wouldn't need if the PC/Laptop in question was the only one you owned.)
A little research showed up this matrix from Microsoft describing their OS products. Too many, too confusing and too expensive. But that's what you get from a monopolist creaming the market.
Computer Experts launches new website!

Tue, 31 May 2011 20:18:00 GMT
There is an old saying that says the cobbler's children have no shoes! That is certainly true on the case of our website. We haven't published an updated site for over five years ;( How did it take so long?
We not only have the content to fill dozens of pages with valuable information that most (if not all) PC users would find useful, but my son: Adam Brand, is VP Creative & Client Services at Marketpath, a leading provider of web-based Content Management Systems. That's what we're using to launch our new website!
I hope you benefit from our new website. If you really like pics from our 2006 'Downtown Drivethrough' eCycling event, or my presentation to ITEC Dallas on Free Software from 2005 - let me know and we'll send you a link from the 'way-back' machine!
Thanks,
Kim Brand, President